Is My Rug Handmade or Machine-Made?
Nothing compares to an authentic, hand-knotted Persian or Oriental rug… the quality is unsurpassed!  You can also find area rugs that are designed to imitate Oriental rugs, and while these machine-made imitations may be reminiscent of authentic Oriental rugs, when you look more closely, you'll see they are far lower in quality.
Here are 4 ways to help you determine if a rug is made by hand or made by machine:
Fiber Content

– Authentic Oriental rugs are almost always made of wool fibers, or occasionally silk.  If a rug is made of polypropylene or other synthetic fiber, it's probably not an authentic handmade Oriental rug.  Wool is durable, which is why good quality hand-knotted rugs are able to last for generations. Additionally, wool is hypoallergenic, antibacterial, and even flame retardant.

Underside

– Look on the backside of the rug.  If it's hand-knotted, you'll see the same pattern repeated on both sides, indicating it was woven by hand on a loom.  Hand-knotted rugs do not have any type of backing to them. If you see a backing, this is a sure sign the rug is machine made.  During construction, the fibers of these machine-made rugs are secured to their plastic backing, typically with latex glue.

Fringe

– The fringe on a handmade Oriental rug forms the foundation of the rug.  In hand-knotted rugs, the wool (or silk) fibers are knotted around these "warp" and "weft" yarns, which then extend to naturally become the fringe.  In a machine-made rug, the fringe is glued or sewn on afterwards and is in no way part of the rug's construction.

Durability / Strength

– Handmade rugs are significantly stronger and more durable than machine-made rugs.  In a machine-made rug, the tufts of fabric can often be pulled from the plastic backing, and the plastic backing itself will become brittle and eventually fall apart.  However, in a hand-knotted rug, the fibers are tightly woven – indeed

knotted together

– and will not pull out over time.
RugPro Oriental Rug Cleaning is the best professional rug cleaning company in Jacksonville FL and the trusted service of homeowners in San Marco, Riverside, downtown Jacksonville, and the Beaches.  We specialize in providing gentle but thorough deep cleaning for Persian and Oriental rugs by customizing a cleaning plan based on your rug's specific needs.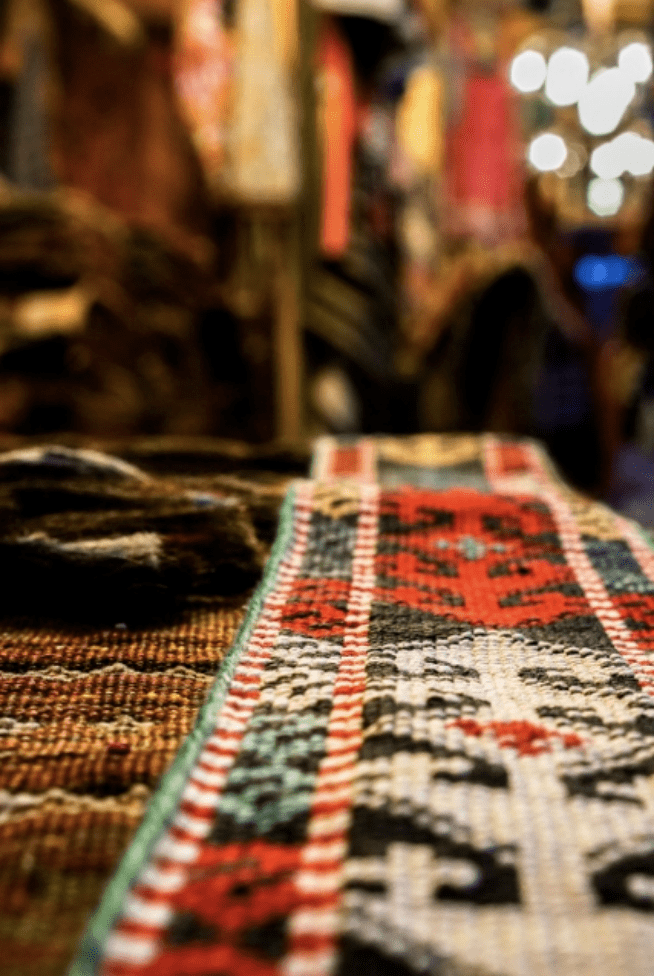 6 Tips for Buying the Perfect Oriental Rug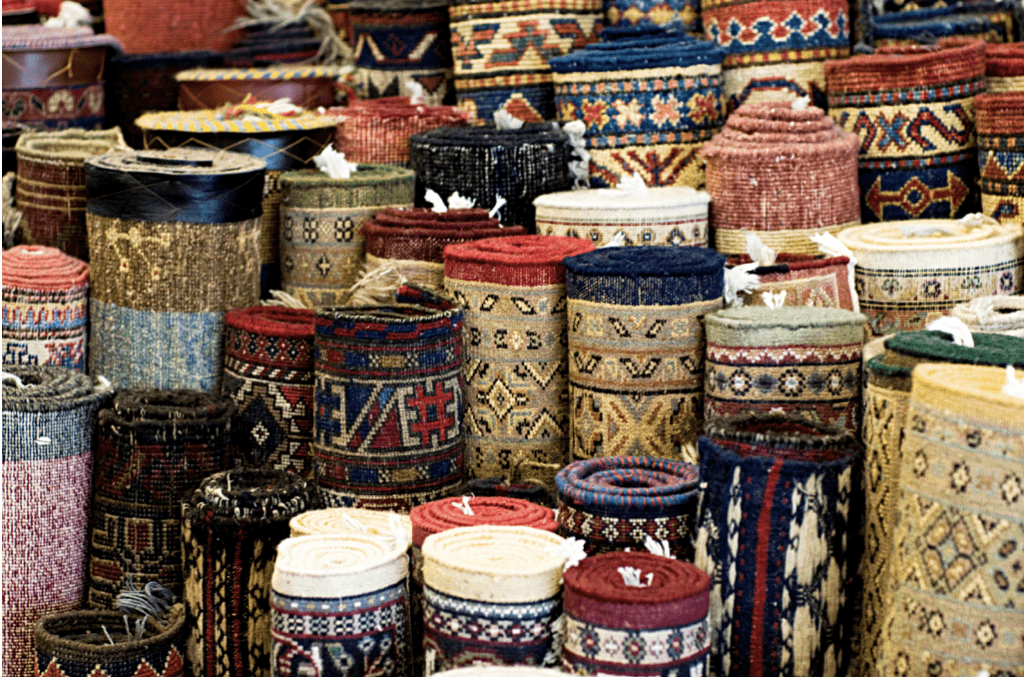 An Oriental rug represents a significant investment, and you want your rug to look good in your home, represent your interests, and last for many years.  Our tips can help you find the perfect Persian or Oriental rug for your home!
Understand how good quality rugs are made.  Weaving technique, knot density, material – these all matter when it comes to choosing a rug that will last for decades.

Research the well respected rug sellers in the area.  Find a shop that has been in business for many years and has the reputation for being trustworthy.  Meet with a specialist in the shop to discuss your desires and view as many rug samples as you need.

Know the space you'll be filling.  You'll want to know the size of the room you'll be decorating and have a general feel for how your furniture will be arranged in the room in order to find the best size of rug for the space.   

Have an open mind for the rug's design.  You'll want to have some idea of the color scheme and motifs that you want your rug to have, but leave yourself open to consider rugs from various countries, with all types of motifs, and different hues of the colors you like or other variations of the color combinations you have in mind.

Go with your heart.  When you find that perfect rug, take it home with you, and don't buy a rug that you don't love.  Your rug will be a centerpiece for the entire room, if not a cornerstone of your home's overall aesthetic, and you should love to look at it, walk on it, and have it in your home.

Get connected to a great rug cleaning company.  Once you settle on the perfect rug for your home, you'll want to connect with a great rug cleaning company in your area that you can call on for routine cleaning, help with spots and spills, and general care so that you can be sure your rug will stay in great shape.  RugPro Oriental Rug Cleaning is the best professional rug cleaning company Jacksonville FL rug owners rely on for rug care.
High quality rugs need high quality care to keep them healthy, looking great, and able to be preserved and protected.  RugPro Oriental Rug Cleaning is the best rug cleaning company Jacksonville FL homeowners and rug lovers rely on for their rug cleaning and care.  We've earned the trust of customers in Atlantic Beach, Ponte Vedra Beach, Riverside Avondale, and throughout Jacksonville, and would love to provide care for your fine rugs as well.
3 Important Tips for Decorating with Oriental Rugs
For rug collectors and aficionados, a beautiful Oriental rug is nearly always the "jewel in the crown" of any room.  After all, an exquisite, hand-knotted Persian or Oriental rug never goes out of style! However, it can be tricky to showcase your fine area rug in a way that does not compete with the furniture, wall color, and other such elements of any room's decor.  Our tips can help you find the best design scheme for your favorite Persian or Oriental rug.
Rely on neutral colors.

 Rug lovers tend to collect multiple Oriental rugs, and having all rugs displayed throughout your house can indeed be tastefully done, with a little planning.  We recommend allowing sizeable expanses of neutral flooring, such as hardwood or simple, neutral tile, to be exposed between each rug. Similarly, keep the paint colors in each room simple and neutral.  The "busier" the floor is with rug designs and patterns, the simpler the walls and other flooring should be.

Stick with a simple palette.

 Limit the palette of the room to 2-3 colors, and then find creative ways of repeating the colors throughout the room.  If the color field of your favorite Persian rug consists primarily of rich blue and deep red, find a sofa in the same rich blue tone, and display a large vase in the same deep red tone, and the room will be tied together magnificently.  We also recommend going monochromatic in your design scheme. When the walls, window treatments, furniture, pillows, and floor have a similar hue or cast – such as a pale, warm beige – the rug will be the highlight of the room, while still allowing the room to have a pleasing overall "feel."

Be selective with patterns.  

The pattern on your Oriental rug is most likely one of your favorite aspects of the rug's design, and you may worry that including any other type of pattern in the room would be overwhelming.  It is possible to use multiple patterns in your design. Just be sure the patterns on throw pillows, artwork, frames, furniture, and anything else that is prominently displayed in the room still echo the colors found in the pattern of your Oriental rug.  For example, patterns – even wild ones – in brocade pillows, drapery, and artwork can still coexist with your Oriental rug as long as the colors in all patterns echo each other.
Fine Oriental area rugs deserve to be displayed prominently and used as the anchor of any room's design.  They also deserve the best care and cleaning, and should only be trusted to highly rated rug cleaning companies.  For rug owners in San Marco, Avondale, St. Johns, and throughout Northeast Florida, RugPro Oriental Rug Cleaning is the best professional rug cleaning service.  We specialize in rug care and will develop a customized cleaning regimen to get your favorite area rug clean in the most thorough and careful way possible. We are passionate about Oriental rugs, and clean each one meticulously, with truly outstanding results.  Treat your rug to a thorough cleaning by the best Jacksonville FL rug cleaners today!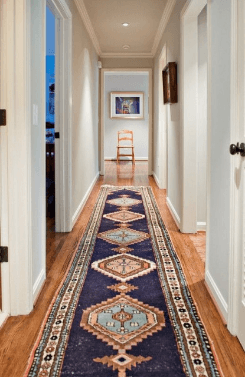 Can My Oriental Rug Be Cleaned in My House?
When the time comes to have a Persian or Oriental rug professionally cleaned, some homeowners want their rugs to be cleaned in their homes.  Fine area rugs are generally large and cumbersome to move. It make sense that a homeowner would want to instead call on a carpet cleaning company to come to the house and clean the rug in place.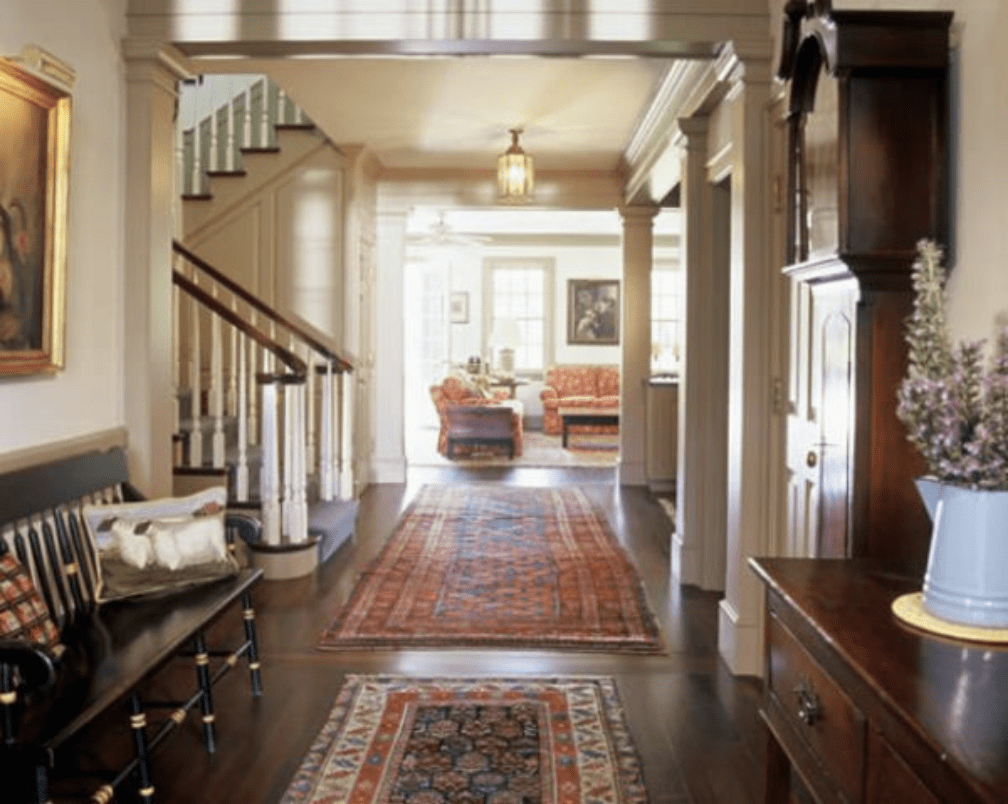 It may seem convenient to have your rug cleaned in your house, but in most cases this is not advised.  Here's why:
Carpet cleaners clean carpet.  

It sounds obvious, but carpet cleaners are trained and prepared to clean

carpet.  

Oriental and Persian rugs usually should not be cleaned using the same techniques as carpet.  Carpet cleaning machinery and cleaning solutions are designed for standard wall-to-wall synthetic fiber carpets.  Your Oriental rug is made of wool, silk, or other natural fiber, and would be greatly damaged if it were subjected to the standard carpet cleaning process.

Cleaning can be a wet process.

 As you know from any cleaning project, the actual cleaning process often requires large amounts of cleaning solutions and water.  Rug cleaning is no exception.  Having a rug cleaned in place could cause damage to the underlying floor, nearby furniture, and more. For a rug to be successfully cleaned, it often needs to be submerged in a rug bath.  Therefore, moving water can circulate through the fibers and truly give the rug a deep clean.  Even if dry cleaning solutions are used on a rug, they cannot be used inside a house without risking damage to the flooring or nearby furniture.

Rugs require specialized equipment.

 For a rug to be thoroughly cleaned, it may need to be laid out on a grate and dusted with a large scale machine, or submerged into a rug bath and then spread out on a custom-built float table, hung to dry on a specialized drying tower, etc.  In other words, fine rugs require – and deserve – professional equipment, which can only be housed in a professional rug cleaning facility.
For the optimal results and the highest level of care for your rug, it's best to schedule a cleaning appointment with the best professional rug cleaning company and let the specialists design a customized cleaning regimen for your rug.
Please note that in some very rare cases, exceedingly large rugs do need to be cleaned in place, rather than in the rug cleaning workshop.  In these rare but important situations, where the rug must indeed be cleaned in place, a professional rug cleaning expert will need to perform the cleaning process.  The rug expert will have a specific protocol for oversized rugs, and will take all the precautions to thoroughly clean your rug while protecting the underlying floor and surrounding area.  Even extremely large rugs can be thoroughly deep cleaned if you find the right professional rug cleaners!
RugPro Oriental Rug Cleaning is the best Jacksonville FL rug cleaning company to trust with your fine area rugs.  We offer the most thorough deep cleaning process available, and most importantly, we handle your beautiful rugs with the highest possible standard of care.  We are rug experts, and have the training and experience to gently and thoroughly clean all types of fine area rugs. Rug lovers throughout Jacksonville, Riverside, San Marco, St. Augustine, and the Beaches call on RugPro for their rug cleaning needs, and you can too!
5 Common Rug Cleaning Mistakes
There are five big mistakes rug owners make when cleaning their rugs:
Wrong Cleaning Solution – There is no bottled rug cleaning solution that is a "one type cleans all" cleaning agent.  If you attempt to clean your oriental rug with a bottled cleaner from the grocery store, the rug will not get truly clean, and may likely even become damaged.  Instead, take the time to find the cleaning solution that is specially formulated for the type of fibers your rug is made of, the type of stain you need to remove, etc.  Or, call on a good rug cleaning company, since their teams will have access to whole hosts of cleaning solutions and the expert knowledge of which solutions to use on your rug.
Wrong Cleaning Method

– Dry cleaning is not adequate for certain fibers.  Certain other fibers cannot get wet or else they'll be ruined.  If your rug is subjected to the wrong cleaning techniques, irreversible damage can be done.  All good rug cleaning companies have technicians who are trained to know the best way to thoroughly – but carefully – clean any type of rug fiber.

Too Long Between Cleanings

– Dust, dirt, bacteria, and debris all build up in your rug's fibers thanks to foot traffic, pets, and life in general.  Like any surface in your home, rugs require routine cleaning. Just because you can't see the dirt and grime doesn't mean it's not there.  In fact, dust and debris work their way down your rug's fibers and into the rug backing, causing damage all along the way. Routine cleaning rids your rug of these damaging particles and keeps it looking great.

Too Long Before Addressing Spills

–  It's critical that you clean up a spill as soon as it occurs.  When a spill is allowed to dwell on the rug, irreversible damage can occur.  Pet spills, in particular, should be addressed right away. Pet urine, coffee, chocolate, blood, ink, and countless other spills can do real damage to a fine area rug, so treat the spill right away.  Better yet, call on the best professional rug cleaning service in your area and trust the job to the pros!

Wrong Company

– A common mistake many rug owners make is hiring the wrong cleaning company!  A great rug cleaning company has highly trained rug cleaners who are experienced in cleaning all types of rug.  Great rug cleaners need to know the right cleaning solutions and be able to determine the most effective cleaning method for the customer's specific rug.  Do your research and find the company that treats each rug as if it's their own, and takes the time to devise the perfect cleaning regimen for your rug's specific needs.
RugPro Oriental Rug Cleaning is the best professional rug cleaning company Jacksonville FL homeowners call on for their rug cleaning needs.  Our highly trained technicians have treated nearly every type of stain on any type of rug, using the best cleaning solutions and tools in the industry.  We offer deep cleaning for stubborn stains and highly soiled rugs, and offer routine cleaning to keep your rugs looking their best throughout the year. We can also apply a protectant to the fibers in your rug in order to help keep the rug cleaner longer.  
Join our other thrilled rug cleaning customers throughout Atlantic Beach, Ortega, Riverside Avondale, and Jacksonville by calling on us and letting us give your favorite rug the cleaning it deserves!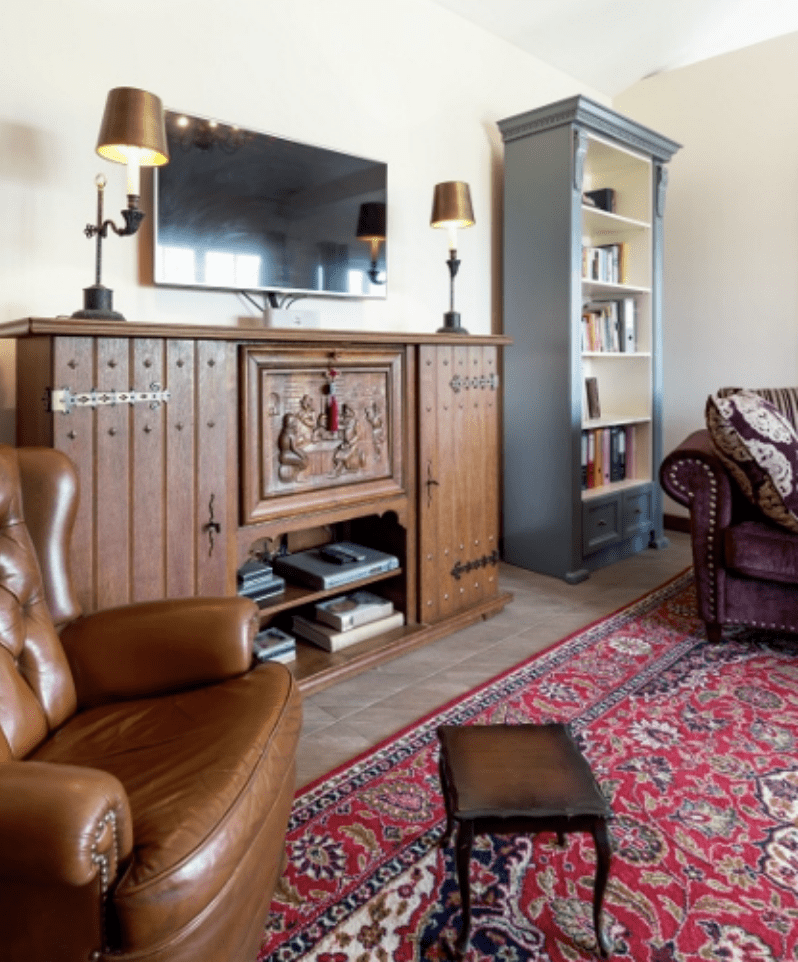 Know When to Clean Your Oriental Rug
It's no secret that the best way to keep your Persian rugs and Oriental rug clean and protected is to have them cleaned routinely… but how do you know when your area rug needs to be cleaned?
Dusting – Rug dusting is recommended every 6-12 months.  Regular rug dusting is critical, as it removes dry soil from your rug's fiber and backing, including dust, sand, dander, hair, dirt, debris, and more.  Rugs that are located in high traffic areas of your home can hold a surprising amount of soil and dust in their fibers.  In fact, our rug dusting tool will often remove several pounds of debris from a rug, even when the owner brings it in routinely!  The best rug cleaning services are equipped with rug dusting tools that loosen and remove these soils mechanically through intense vibrations.  This process is gentle on the rug, yet highly effective at removing soils from deep within the rug's fibers.

Maintenance Cleaning – Maintenance cleaning is recommended every 12-18 months.  The maintenance cleaning process will vary among rug cleaning companies, but should include a full inspection, dusting and dry soil removal, low moisture cleaning, a neutralizing rinse, and a thorough drying.  This process, when done by the best professional rug cleaner you can find, will keep your rug clean and protected.

Deep Cleaning – It is recommended that you get your rug deep cleaned every 2-3 years.  The best professional rug cleaning companies specialize in deep cleaning packages, which should include dusting and dry soil removal, deep submersion and hand wash in a rug bath, a neutralizing rinse, and a number of other services that are customized to your rug's unique needs, including the application of a stain protector or brightening of the rug's fringe.  

Restorative Cleaning – There are occasions where a rug may require more than the standard cleaning procedures.  For example, a rug that has been forgotten in a dusty attic or storage facility will likely require a restorative cleaning, as will a rug that has been severely contaminated by pet urine stains, or damaged in flood water, or suffered from an infestation of bugs or mildew.  In some cases, this damage may be irreparable.  However, if there is one thing that could potentially revive a rug from such a disaster, it's a restorative cleaning, performed by a team of great professional rug cleaners.  
Dust, dirt, and debris are highly corrosive and damaging to your rug's fibers, but a great professional rug cleaner can help!  At RugPro Oriental Rug Cleaning, we specialize in gently but thoroughly removing all debris from wool and silk rugs.  We have the best rug dusting equipment on the market, and a world class rug bath cleaning system to ensure your rug is cleaned gently and thoroughly.  RugPro is the best rug cleaning company Jacksonville FL homeowners love to call on for the highest quality rug cleaning and the best in customer care.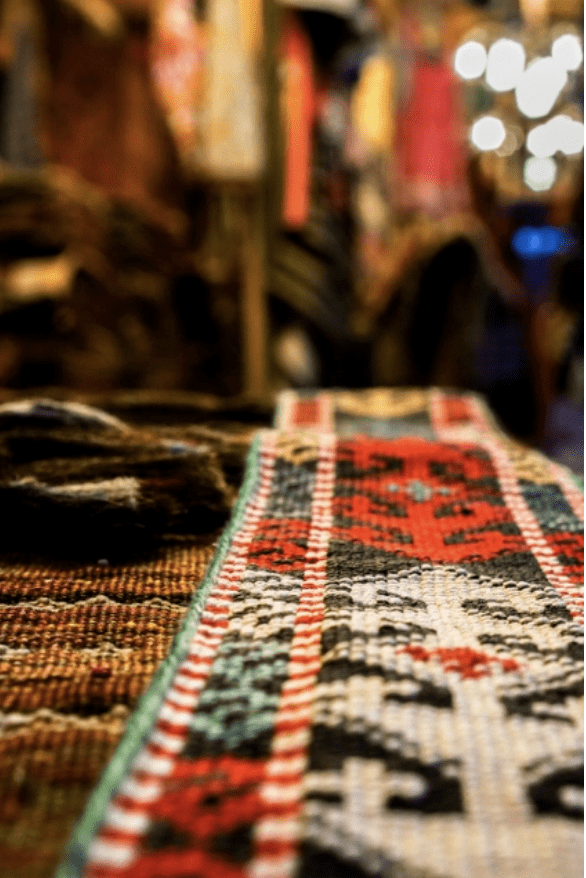 The Best Tips for Vacuuming Your Oriental Rug
Regular vacuuming is one of the best ways to preserve and protect your Oriental rug and keep it looking great. However, it's just as important to vacuum your rug correctly as it is to vacuum it at all.  Our tips can help!
In general, you'll almost always want to adjust the vacuum so that the lowest suction is being used, and so the brush or bristles are not engaged.  Overly strong suction will damage your rug, and the bristles can dig into your rug and tear and break the fibers.  When using upright vacuums, adjust the height of the rotary brush or turn off the rotation altogether.  If your vacuum will not allow you to make these adjustments, then it's best to only use the attachments.

Make sure you understand the fiber content of your rug.  The materials that make up your rug, as well as how it's constructed, both affect how you should vacuum and how often.  For example:

If your rug is flat woven or has very low pile, be sure to use the upholstery attachment rather than the vacuum itself.  If you do not have an upholstery attachment, adjust your vacuum so that the rotary brush is as high as it can go, so that the bristles will not make contact with the rug.  

If your rug has low or thin pile, vacuum in the same direction as the pile.  

If your rug is flat woven, vacuum across the width of the rug.  

If your rug is woven but has a sturdy pile, first adjust your vacuum so that the bristles do not come into contact with the rug's fibers, and then vacuum in the same direction as the pile.  You want to utilize the suction of the vacuum, but avoid the damage that abrasive bristles can do.

Fine Oriental rugs should be vacuumed weekly.  For rugs in areas of heavy foot traffic, vacuum several times per week.

Every 1-2 months be sure to vacuum the backside of your rug as well, in order to loosen dirt and debris from the underside.

Know when to call on a professional rug cleaning company.  If your rug has recently been professionally cleaned, you'll only need to lightly vacuum your rug in order to maintain it till its next cleaning.  However, if your rug has been stuffed into an attic, forgotten for years in a guest room, etc., routine vacuuming will not be effective enough, and you'll need to schedule an appointment with a good rug cleaning company.  
At RugPro Oriental Rug Cleaning, we are the rug dusting pros, and the best rug cleaning service Jacksonville FL homeowners trust with their rugs.  Rugs are our passion, and we specialize in giving each Oriental rug the individualized cleaning and care it deserves.  Homeowners and rug collectors throughout downtown Jacksonville, Ponte Vedra, Ortega, Riverside, Mandarin, and beyond trust us with their treasured rugs.  Let us give your rug the dusting and cleaning it deserves!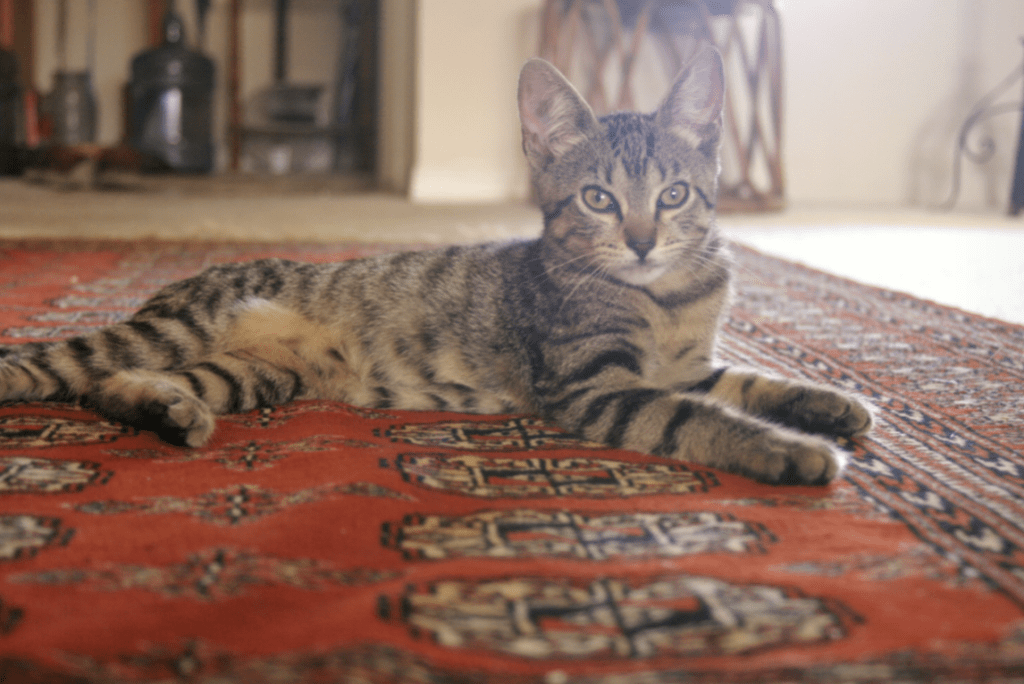 The Importance of a Good Rug Pad | RugPro Oriental Rug Cleaning Jacksonville FL
Many rug owners do not realize the importance of a good rug pad and the role it plays in keeping their rugs in good shape.  Oriental rugs are investments, and when they are placed directly on top of hard tile, wood, or vinyl flooring, or even onto carpet in some cases, they depreciate and wear out much faster than they would on a rug pad.  Take the time to select and install a proper rug pad that is the right thickness and material to support your area rug, and as a result, your rug will look and feel great for years to come.
Here are the main ways a rug pad can benefit your rug:
The pad cushions your rug against pressure

.  A pad essentially adds thickness to the rug, and forms a buffer between the fine fibers of the rug and the hard floor.  A pad protects the rug from many kinds of pressure, including foot traffic, the blunt heaviness of oversized furniture, and the sharp or pointed legs and spindles of finer furniture.  Unfortunately, too much cushion can also damage your rug by straining it.  Your local rug cleaning company will have technicians who are able to recommend the right thickness for your specific rug.

A rug pad helps your rug lay flat

.  A rug placed on top of carpet needs a pad to keep it from creeping, bunching, or wrinkling, all of which could cause you to trip.  Likewise, a rug placed on top of wood floors, tile, cement, or other hard flooring needs a pad to keep it from slipping and sliding.  Tripping over wrinkled rugs and slipping on rugs that aren't secured can be dangerous, and are risks you take by not utilizing a rug pad.  Not only that, but tripping on the rug can harm not just you, but also the rug itself.

A rug pad protects the floor beneath the rug

.  The pad not only protects the rug from the flooring, but also protects the flooring from the rug.  Dyes in handmade Oriental rugs may transfer or stain the flooring beneath them, and rugs made of tougher fibers could possibly scratch or mar a polished wood floor.  A properly placed rug pad will prevent all of this from happening.
A rug pad is a vital part of protecting and caring for your Oriental rug, and it should not be forgotten.  The importance of a proper rug pad is rivaled only by proper rug cleaning, and RugPro Oriental Rug Cleaners can take care of both!  RugPro is the best professional rug cleaning company Jacksonville FL rug owners call on for rug cleaning, rug pad installation, and all other rug care needs.  We are the favorite rug cleaning and pad installation company of homeowners throughout Northeast Florida, including St. Augustine, Fernandina Beach, Atlantic Beach, Ortega, Riverside Avondale, downtown Jacksonville, and beyond.  Call on the best Jacksonville FL rug cleaning service for your rug and rug pad.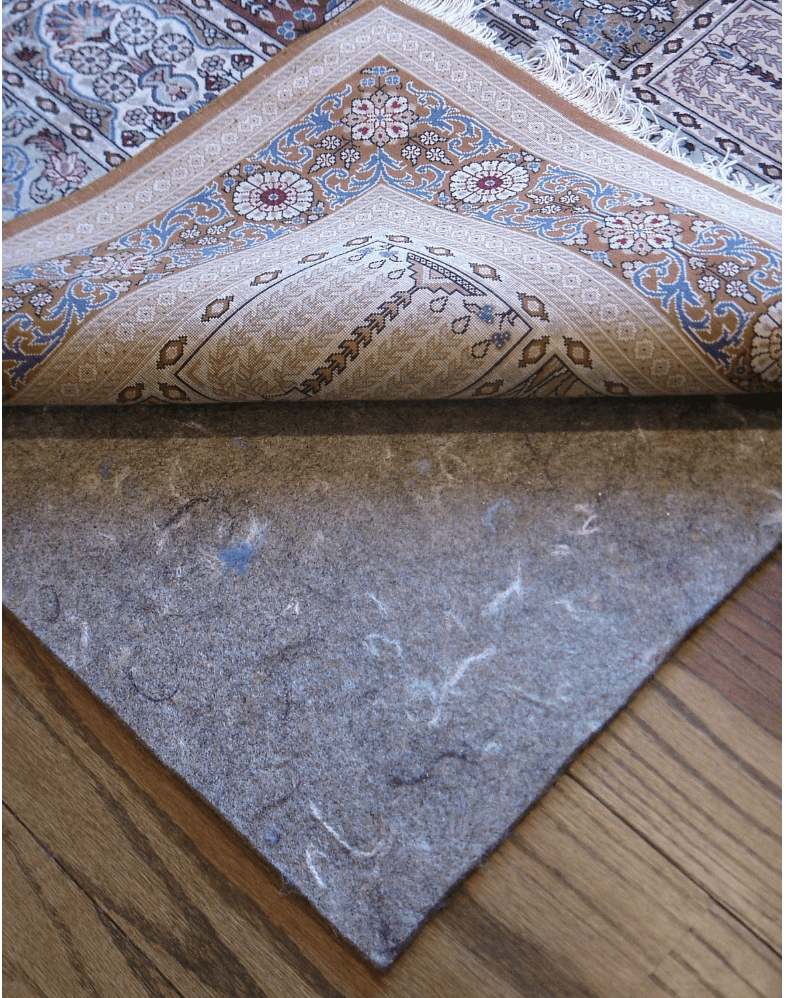 Is Your Oriental Rug a City Rug or a Tribal Rug?
Oriental rugs can be subdivided into two categories: tribal rugs and city rugs.  What differentiates these classifications, and what type of rug do you have?
All About City Rugs:
City rugs are known for their elegance, precision, sophistication, and refined qualities.

City rugs are most commonly produced in the big cities of Tabriz, Kashan, Amritsar, and Tehran.

Common design features of city rugs include curvilinear designs, extremely fine weave and detail work, and elaborate patterns, usually botanical or floral in nature.

Perfect symmetry is featured throughout the design on a city rug.  This is because symmetry was thought to reflect the perfect order of the universe.

Pile is generally cut very low in order to showcase the detail of the weave.

Each city has its own characteristic set of patterns and colors, which are represented in each of its rugs.  These patterns, in turn, can be used to trace the rug back to its city of origin.  

The design plan for each city rug is created by a master rug designer, and consists of sophisticated knot-by-knot instructions, and rugs are woven in a shop by multiple weavers, often under the watchful eye of the master rug designer, who ensures that the plans are followed exactly, and that the quality of work is up to the desired standards.  

In general, city rugs come from extraordinarily gifted and revered rug designers, highly skilled weavers, large scale operations, and tight quality control.
All About Tribal Rugs:
Tribal rugs are coveted for their elemental, geometric patterns and bold colors.

Tribal regions that are known for their rugs include Afshar, Arab Khamseh, Baluchi, Caucasian (from the Caucasus Mountains), Kurdish, and Persian Qashqai, among many others.

Common design features among tribal rugs include animals, people, and important symbols, all represented in geometric, block style patterns.

Tribal rugs often have looser weaves and coarse fibers.

Tribal rugs are woven by nomadic weavers who weave as they travel.  They were woven on portable looms which were significantly smaller than those used in city rugs and other types of weavings.  Therefore, tribal rugs are smaller in size than many other types of rugs.  Even tribes who eventually settled in villages used these smaller looms.

The patterns for tribal rugs have been handed down from generation to generation, in the oral tradition, often going back centuries.  The weavers know the patterns by heart.  These tribes often have no written histories, and these rugs retell historic events and express cultural heritage through their patterns and symbolism.
In addition to being highly prized works of art, tribal and city rugs are highly valued for historic and cultural purposes.  The weaving methods for both styles of rug have been used for hundreds – if not thousands – of years, which adds to the allure of the Oriental rugs and Persian rugs, especially to rug lovers like all of us!
High quality Oriental rugs, tribal rugs and city rugs call for an equally high quality level of care.  RugPro is the best Oriental rug cleaning company Jacksonville FL rug owners rely on for all rug cleaning and care.  We specialize in caring for each area rug as if it were our own, and have earned the trust of rug owners across Jacksonville, Fleming Island, Riverside Avondale, Ortega, Ponte Vedra Beach, and beyond.  We work with each client to design and customize a rug care regimen that fits the unique needs of the rug, as well as the wishes of the client.  We also use rug cleaning methods and systems that are proven to be safe and effective for even the finest threads, richest vegetal dyes, and centuries-old construction.  Your rug is safe with us, and you will truly love the results!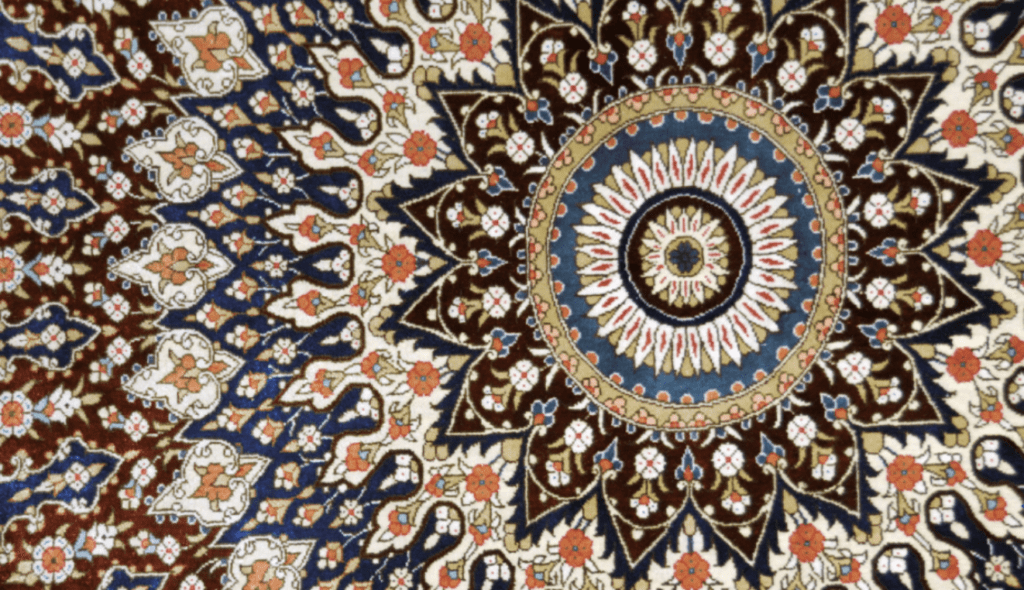 How To Recognize a High Quality Rug
To many of us, there is nothing more beautiful than a high quality rug.  However, not all rugs are created equally, and there are many features that determine the quality and value of an Oriental or Persian rug.  Whether you're interested in knowing more about the quality of your own favorite rug, or in the market for another one, our tips will help you find your way among the thousands of styles of beautiful Oriental rugs.
A rug's value cannot be determined by a sole characteristic, but rather requires a more thorough assessment of the following features:
Style

– First and foremost, make note of the rug style.  The main categories of rug are machine-made, hand-tufted, or hand-knotted.  Even a high quality machine-made rug or tufted rug cannot compare in quality to a rug that has been knotted or woven by hand.  A rug that is designated as "hand-knotted" or "hand woven" has been constructed entirely by hand, and is a unique piece of art.

Age

– The age of your rug can have a lot to do with its quality.  Contemporary rugs can be made of the finest materials and made using the time-honored construction methods from centuries ago, but will still be far less valuable than an heirloom antique.  Also consider the rug's age relative to the condition.  A rug that is decades old will be lower in value if it has not been maintained or has fallen into disrepair.

Knot Density

– Knot density or knot count is the most well-known method of determining a rug's value.  This can be calculated by counting the number of knots per square unit.  For example, to discover a rug's KPI, or knots per square inch, select 1-inch by 1-inch portion of the rug and count the knots extending in each direction.  Typically, the finer the material, the higher the knot count, and the higher the value of the rug.

Weave

– Weaving technique is a major indicator of the value of a rug.  The foundation fibers of a rug are often made of cotton, but on extremely fine silk rugs, the foundation itself may also be made of silk.  Symmetry is highly valued in rug weaving, so symmetry in rug size, imagery, and knot construction will all indicate higher value.

Country of Origin

– An Oriental rug can be made in China, India, Turkey, or in almost any country across Asia, and each country has its own style and design motifs for which it is known.  Among these Asian countries, certain ones have more inherent value than others.  For example, a rug from Iran (or a Persian rug) will likely be more valuable than a rug from any other country in the region.  Even within each country, the specific village or tribe may be specifically noted for its rug construction, and therefore, more valuable.

Fiber Type

– The fibers that make up your rug will determine its quality.  Oriental rugs are made of silk or wool, and the two categories may be further subdivided according to the grade of the fibers.  For example, the wool from sheep in higher elevations is more luxurious than the wool of other sheep.  Whether the wool was hand spun or machine spun before weaving, will even affect the feel of the rug, and therefore, its quality and value.

Dye

– The dyes used in your rug are just as important as the fibers when determining your rug's quality.  Synthetic and chemical-based dyes are less desirable than natural dyes.  Natural dyes, such as vegetable dyes cost more to produce and require additional labor.  They must be applied using specific skill and much experience.
The higher the quality of your rug, the better care you want to take of it.  There are good rug cleaning companies, and then there are great rug cleaning companies, and you want the very best professional rug cleaner for your valuable Persian or Oriental rug.
RugPro Oriental Rug Cleaning is the best rug cleaning service Jacksonville FL rug owners trust with their quality rugs.   We offer a truly luxury level of care and cleaning for your treasured rug, which is why we are the trusted rug cleaner for the most discerning rug owners in San Marco, Riverside Avondale, Nocatee, St. Augustine, and throughout Northeast Florida.  We are passionate about Oriental rugs, and clean each one in a meticulous yet gentle method, with truly outstanding results.  Treat your rug to a thorough cleaning by the best Jacksonville FL rug cleaners today!