Removing Urine From Wool and Silk Rugs
January 23, 2015 05:25:12pm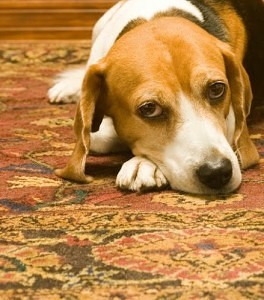 Pets are a part of many households, and in most cases, they are considered one of the family, so we don't mind tidying up after them. However, when your dog or cat has an accident and urine gets onto your wool or silk rug, real damage can be done. It's important to act quickly and use the right techniques to make sure your rug gets clean, with no lasting harm done.
The Problem Of Pet Urine On Rug Fibers
Pet urine is unsightly, unsanitary, and a nuisance to your home's environment, so it's natural to want to get it cleaned up as soon as possible. Fresh urine is considerably easier to extract than urine that has had time to settle into rug fibers. When urine is fresh, its pH is low, but the bacteria that is present in the urine begins to rapidly multiply, and the pH levels rise as well. By the time the urine has dried, it has become alkaline and therefore much harder to remove. These chemical changes that urine undergoes likewise react to the dyes in the fibers of the rug, and the longer urine sits on a rug, the higher the chances are that any color change will be permanent. If a urine spot sits on an area rug for even a few hours, the damage may be there to stay. If urine sits in wool or silk fibers for longer than a day, most rug experts recommend taking the rug to be professionally cleaned.
Cleaning Pet Urine From Your Rug
Most homeowners understand the importance of being quick to respond to urine spots. However, a cursory or poorly done cleaning job will do no good, regardless of how quickly it happens. Too often, people think the solution to a urine problem is to blot it with paper towels and spray or sprinkle on a deodorizer. In order to ensure that no long term damage is done to your wool rugs, it's important to address each stain and spot properly.
Here's how:
If you have multiple pets or a pet prone to having accidents, you may want to invest in a small wet vacuum. A small wet vac can be easily stored and maneuvered to get to spots wherever they occur. To clean up fresh urine, simply vacuum over the spot repeatedly with the wet vac until no more moisture can be extracted. Prepare a mixture of 1 part vinegar and 1 part cold water, and test the solution on an inconspicuous part of the rug to be sure the rug is colorfast. Thoroughly wet the carpet or rug, not only on the affected area, but several inches beyond it in every direction. Allow the mixture to sit for 1-2 minutes before thoroughly extracting it with the wet vac. Go over the area repeatedly with the wet vac to ensure all possible moisture is removed.
If you don't have a wet vac, fold a bath towel and place it over the stain. Press firmly or stand atop the area for 10-15 seconds in order to absorb as much as possible. Refold the towel and repeat this step until the urine no longer wicks into the towel. Prepare the mixture described above of 1 part vinegar and 1 part cold water, and thoroughly wet the affected area, going beyond the perimeter of the stain itself. Allow the mixture to sit for 1-2 minutes. Take a clean bath towel and repeat the process of pressing firmly or standing on the towel until all moisture is absorbed. You may need to use multiple towels, but fortunately, all soiled towels can be thrown right into the washing machine when the process is finished.
Vinegar neutralizes the ammonia odor in urine without fading the fabric fibers, and the wet vac or bath towels absorb and extract the moisture, so if a urine spot is tackled immediately with these techniques, you have a high chance of getting it out. However, for urine stains that are more than 1 day old, we recommend making an appointment for your rug to be cleaned by a professional rug cleaning service.
Jacksonville, FL Oriental Rug Urine Treatment
Treatment of urine spots and stains is one of our most popular services at RugPro Oriental Rug Cleaning. We are experts in removing spots, spills, and stains from Persian and Oriental rugs, and if your rug has suffered pet urine spots, trust it to us to get it clean again. Our deep cleaning service removes even deep-set stains and soils using gentle yet effective cleaning chemicals, and the highest quality rinsing system in the industry. When the cleaning is finished, we can even apply a stain protector to guard your rug from future pet urine spots. Years of experience and extensive training make us the best professional rug cleaning company in the area, and our customers throughout Riverside Avondale, Ortega, Beaches, and downtown Jacksonville trust us to clean their treasured rugs properly and thoroughly. Let us give your own rug the thorough cleaning it deserves!